What Is Family Wellness All About Today? And What Are The Things You Can Do To Strengthen It!
Ensuring family wellness should be the top priority for today's living. The impact of the health crisis by the pandemic directly hit the family well. Restrictions and health protocols implemented seem to make you feel limited. While everybody is staying at home for a long period your body exposes you to lesser physical activities which can undermine physical health. Most of the time people are facing devices and gadgets because of work from home set up, online classes with modules, and for entertainment purposes that you'll find more radiation exposure. 
These concerns might occur during this season while most of the time family wellness is a struggle to observe in every household nowadays. At this point, you'll probably ask what family wellness is all about? It covers the aspect of physical, mental, emotional, intellectual, spiritual, occupational, and psychological well-being of every member of a household.
In my insight, the picture of a better place reflects the kind of family unit that contributes around it. I see a better community if it directly applies to what family wellness is all about. With this in mind, wellness isn't just about taking care of one's health. See to yourself that these principles matter to your life and your family. You don't have to feel frustrated if you think this is lacking. It's not an eventual result. Working out of this goal requires patience and a sense of unity and cooperation within you and your family. You just have to focus on one tip at a time to make it fit in every aspect.
I want to share
6 significant ideas that will probably help to improve your family's wellness.
Eat with your family together as much as possible!
Regularly, how many times did you eat together with your family? People are distracted by the demand of work or study schedules, unavoidable excitement on media entertainment, and some self-precious stuff that always ends up in a quick meal habit. In some ways, most family quality time essentially finds this situation. There are chances to be missed out on a possible bonding experience. It starts with the parents holding an interaction. The tendency to open up in their thoughts is found if facing together. Of course, it is important to promote a healthy food lifestyle to your kids. Continue to educate them about the nutrition and benefits they will get from the GO, GROW and GLOW foods. By doing this together they are also able to learn the proper table manners and discipline as well.
Plan and Set a Family Date!
Week after week a load of pressure from work or school devastates the chances of togetherness in a family. If this routine sticks with you for a very long period the enthusiasm for living a happy life will be undermined. Make sure that you have to at least designate a day where you get to bond together, make a schedule at least once a week. Time will pass so fast before you know it. The perfect bonding time for them is when they are still young. If you are sincere about cherishing memories within your kids you should strive to fit one schedule of this every week. So, make as many great memories as you can with them. You must choose a particular day, time, or occasion. It's all up for your ideal family time. In our current situation, today's health protocol and restrictions are implemented outside. Maximize the capacity inside your house boundary. It would be a wholesome movie marathon, team building, crafts and arts, board games, etc.
It doesn't matter how simple it will be, as long as you do this together the love and confidence for each other will surely grow.
Own a pet
Another suggestive way for family wellness is to at least own one pet. Studies show that there are a lot of mental health benefits you will find in owning a pet. Pets can manage the feeling of loneliness and the tendency of stress leading to mental health concerns by giving a sense of companionship to the owner. Pets can also increase the level of physical activity. For careful decisions, you must do some research beforehand. Identify what type of pet to own, be sure that it must be a domesticated animal instead. While planning, consider these kinds of questions: What kind of shelter is needed? How much are the food consumption and medication treatment in case you get sick? Is it big or small? Etc. Be mindful of the risks of taking care of it. Consider the sickness and harm also that could bring to every member of a family. As I mentioned, do some research beforehand.
Hold a family council meeting
The objective of this principle is to open up for family agendas such as current financial status, assigning of obligations, setting goals and making plans for family fulfillment, and for speaking out. Let everyone share their thoughts turn by turn, this will help to come up with ideas, problem-solving, and better family cooperation. Still, parents have a major role in executing the decisions. 
Have time to visit relatives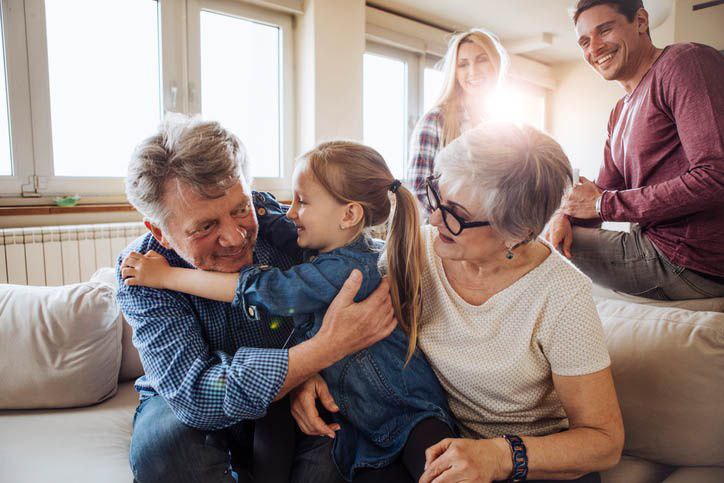 When visiting family relatives there's a great chance in creating bonding moments as well as learning about family traditions and history. It also helps increase major confidence and advantage of social skills as well. Make a meaningful visit rather than just seeing each other. You can do this by planning outdoor activities with them or visiting ancestral sites or places to commemorate history. But in most situations distance is one of the stumbling blocks to fulfilling this goal. Fortunately, you can easily get in touch with your loved ones by technology today whether your relatives are anywhere across the world. By simply browsing social media platforms, you can get full access to audio and visual connections to them.
Still, nothing can be more valuable than spending time with them in person. Social wellness will greatly improve your kid if you take a huge step by making an effort to visit your relatives constantly.
It's time to be Physical
Credit Photo: Family Education
Teach your kids to be active constantly. Promoting healthy habits will help them perform precisely and efficiently on their responsibility and task for life. Lead them on performing daily morning warm-ups or stretching. Make sure that everyone is participating and not left behind. As you do this regularly you also get to enjoy these moments. Try to assign each one alternately on leading your exercise habit. Aside from stretching or exercise, help your kid also develop participating community causes. Find an opportunity to help your neighbor or community in giving significant service such as cleaning the front yard, minor carpentry, watering plants, etc.
These are just some of the things you can do to promote health and wellness for your family. You know somehow that every household varies, so are the things you can do. Don't feel limited by what's given above. Feel free to come up with other ways, which you think can help nurture a healthier lifestyle in your family.
---